I recently attended a software development conference called Abstractions in Pittsburgh, PA. Organized by Code & Supply, Pittsburgh's language-agnostic programming meetup group. This was a conference like no other. From the moment I received the email announcing the selection of my talk, I have been nothing but amazed at with the organization of the event.
 
Bringing Everyone Together
What's the most common way to communicate these days? Yes, you guessed it, Slack. A Slack account was opened by the organizers of the event to communicate with the speakers and attendees to have a place for attendees to meet and chat with each other. What a great idea! Next came the channels such as #buddy-system to connect with an attendee before the event, #meal-groups to get together for lunch or dinner as a group and #speaker-central a place for speakers to communicate, just to name a few. And by few, I mean 51 channels, something for everyone and by everyone I mean the 1500 people signed up to attend the event.
 
Sketching As Therapy
Flying into Pittsburgh from Sacramento is not fun, to say the least. There were no direct flights and the total travel time was about 10 hours with one stop. Do you know a great way to make the long hours on a full flight more fun? No, not sedatives. I'm talking about sketching. Try it next time you've had a bad day at work. As soon as you come home start sketching. You will literally feel your stress melt away. No need for sedatives. Being picked up at the airport by the shuttle was another nice touch by the organizers. As soon as the shuttle was on the way to the hotel I saw something I had not seen all summer, clouds and rain. It was refreshing to see the drops of rain hitting the windshield. I took this as a sign that it was going to be a great conference.
 
A New Experience
After checking into the hotel I headed towards the elevators. There were 6 elevators which were labeled A, B, C, D, and E. I was expecting to press an elevator button but instead there was a touchpad with buttons with floor numbers on them, 26 buttons in all. I pressed my floor number and a letter with an arrow pointing to the side I needed to go appeared on the screen. As the elevator door opened, I entered it together with other guests. A side panel listed all the floors the elevator was going to stop on. My hand automatically reached for the buttons to select my floor but there were no buttons. What? My years of elevator conditioning was failing me. It's amazing how conditioned we are when even on the fourth day my first reaction upon entering the elevator was to reach for the non-existent floor buttons. Mind blown!

We Are All In This Together
A dinner reception for the speakers was at Le Mont Restaurant, a fine dining restaurant with an amazing view of Pittsburgh downtown. At the dinner I met Adrian Roselli , a consultant, writer, and speaker who presents around the world on topics such as accessibility, usability and interface design. I picked up some great travel tips from him about planning conference trips efficiently. One of the tips was to create a checklist of everything you need to pack and double check it before leaving. Another great tip was to add all the talks you want to attend into your own calendar with their descriptions. This way you'll get notifications on which talk you need to go to next thereby reducing the decisions you need to make during the conference. I also had the pleasure of meeting James Pozenell, who was also giving a talk about accessibility and it turned out that he was going to present right after me. I met Luke Westby who flew in from Chicago to present. It turns out that we both were new to public speaking. It was great meeting fellow speakers who had just begun their public speaking journey as well.
 
Let The Conference Begin
Here are a few of the talks I attended:
OK We Had Our Fun so Now Let's Get Serious by Joe Armstrong, inventor of Erlang programming language.
I, Web Designer, by Matt Griffin
More than a formality: How to get the most out of stakeholder interviews, by Azy Groth
Let Us Now Praise Ordinary People, by the one and only Mike Monteiro
Has the Fun Gone out of Web Design? by Jeffrey Zeldman
Games as Conversational Interfaces by Kevin Zurawel
I'll gladly pay you Tuesday for a hamburger today by Jack Moffet
Handle Conflict like a Boss by Deb Nicholson
Conversational User Interfaces: Let apps speak for themselves by Greg Nicholas
Designing for Virtual Reality by Becky Torbochkin
Lucky: Examining the Barriers of Contributing to Open Source by Saron Yitbarek
Free Software and Your Freedom by Richard Stallman

Showtime!
I lucked out because my talk was scheduled for the second day of the conference. This gave me an opportunity to see some great talks and get inspiration from them. One example was Mike Monteiro's talk. He played a song with a great beat to start and end his talk. The song made me excited and got me pumped up. That evening I rushed back to my room and did a final touch up to my presentation. Huarache Lights by Hot Chip was the chosen song. It has a great beat but not overbearing. I arrived early to the room I was presenting in and started the song. Playing a song I really liked helped me calm my nerves as well.
I have created a workbook for the attendees of my talk. It helps them follow along the activities. Having a workbook means there is less moving around for pens and papers in the middle of my talk, which can get distracting. As I passed out the workbooks I was able to greet each and every one of the attendees with a smile, which helped me build rapport before my talk even started.
Laura Renae Webb, a volunteer at the conference was gracious enough to introduce me to the full room of attendees eager to sketch. I love sharing the power of sketching with people. It doesn't matter if you are a developer, project manager, researcher, and especially if you are a designer, sketching is a tool that will help you ideate, iterate, and communicate your ideas.
Another change I made to my presentation was asking everyone in the room to introduce themselves to the person next to them, because a conference is about meeting new people so why not start off with that. It was amazing how the room erupted with conversations and I the energy of the room even pumped me up. However, there was one thing I did not think through, and that was how to stop everyone from talking. I didn't want to shout and the buzzer on my phone wasn't loud enough. After some loud clapping and telling people to end the conversations, we were back to the presentation. Then came the moment everyone had eagerly been waiting for, the sketching activities. These activities are designed with specific goals. They address different parts of sketching such as sketching under time constraints, sketching with a pen, sketching to come up with many ideas for a specific problem. My focus is not on what you sketch or the quality of your sketches but how you sketch so that you can harness the power of sketching to become a sketching machine.
One of the best parts of presenting is the conversations that happen afterwards with the attendees. Making deeper connections with attendees brings a lot of satisfaction and seeing people inspired to make change by taking action, is an amazing feeling.
I loved seeing people's sketches on Twitter and it was clear they had fun sketching.

Beautiful Downtown Pittsburgh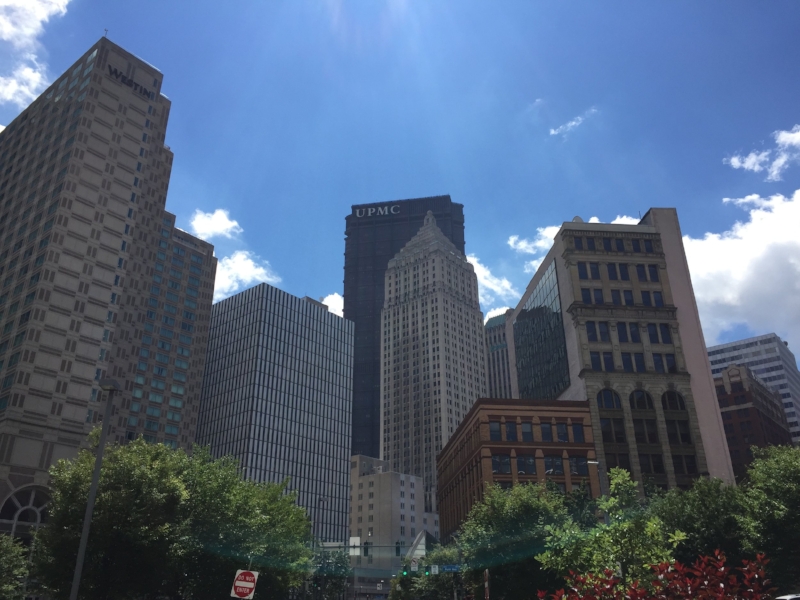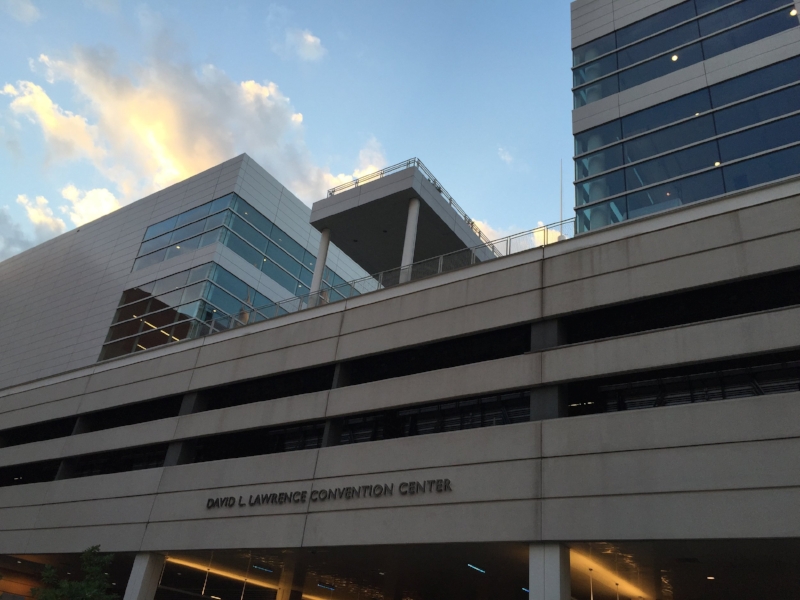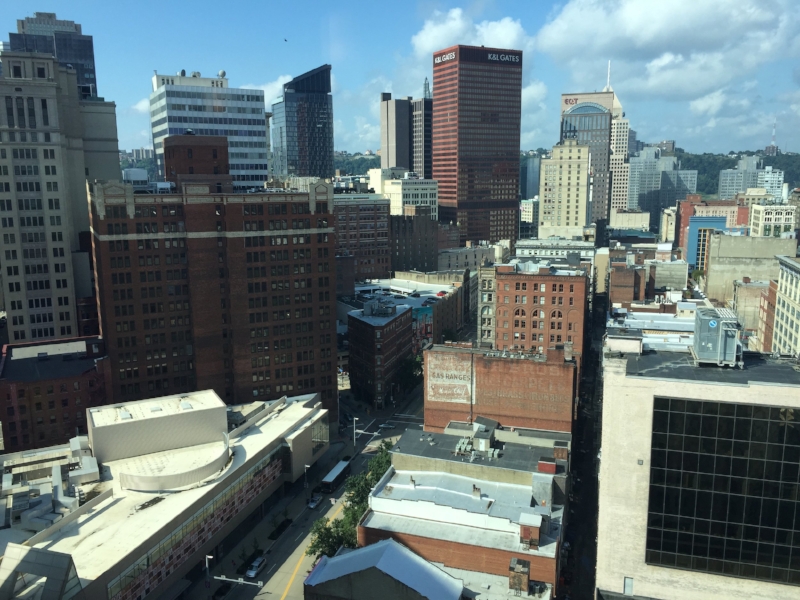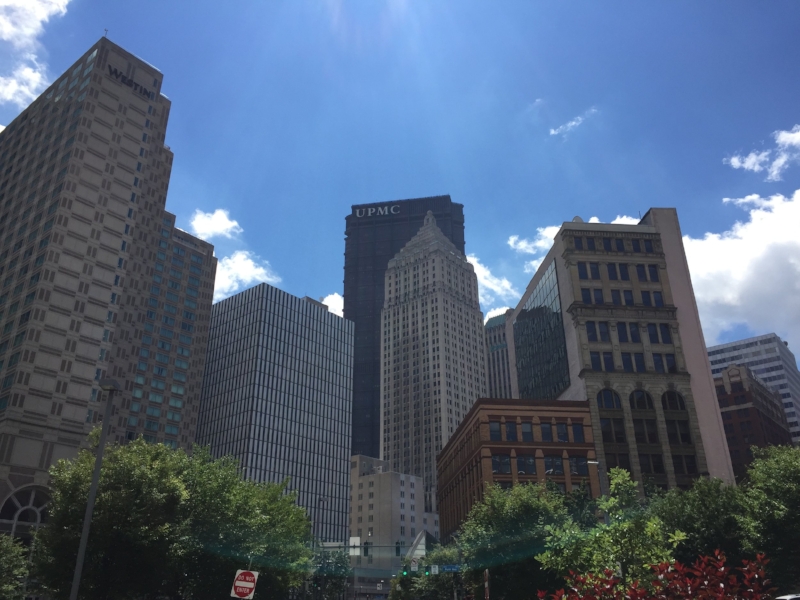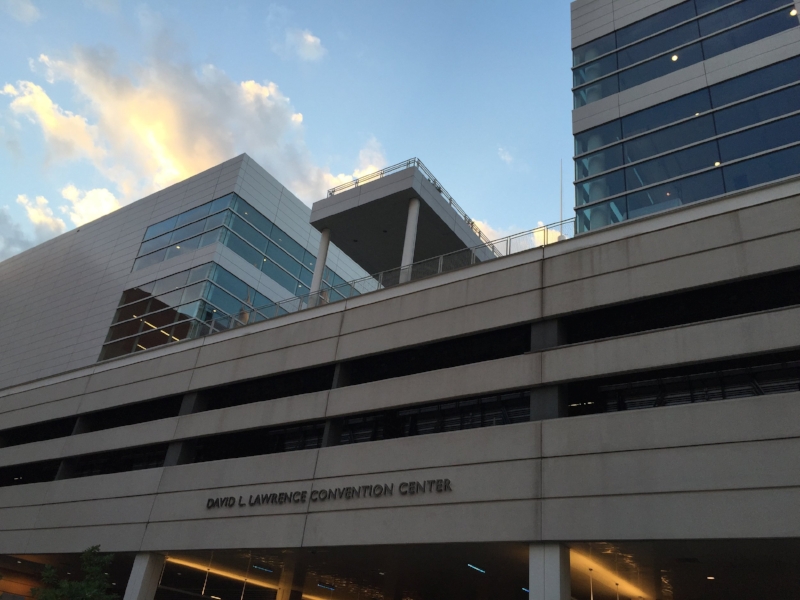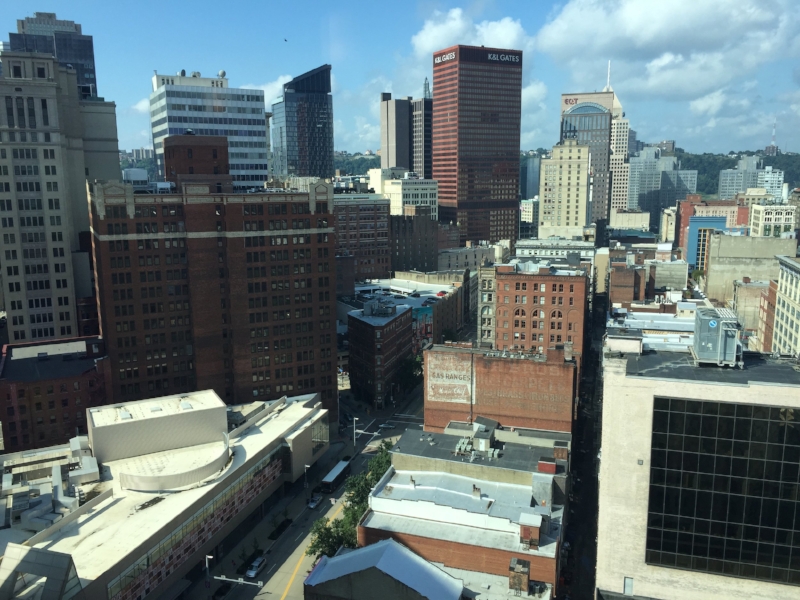 The next morning I woke up early to get a run in. The hotel where I stayed at even had a route map for running. How awesome is that? The running path followed the Allegheny River past the PNC Park (Baseball Stadium), Heinz Field (Football Stadium), through Point State Park to the point where the Allegheny, Monongahela, and Ohio rivers meet. By running I was able to see these great views and experience a small part of the beauty of Pittsburgh.

Final Thoughts
Abstractions was an amazing conference because of the hard work and countless hours put in by the organizers and the volunteers. The organizers succeeded in bringing a diverse group of people together to teach, learn, and connect. By attending Abstractions, I was reminded that we need to broaden our horizons by attending more multi-disciplinary conferences. We need to learn from people who don't think exactly like us in order to have meaningful conversations and to expand our horizons. We are all in this together so let's learn about each others challenges and successes so that we can grow together as one.
I look forward to meeting you at a future multidisciplinary conference soon.
Thank you.

Have a favorite conference you want to share? You can find me on LinkedIn or Twitter.